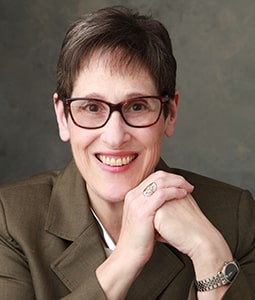 PILI Life Director Barbara Bressler, 67, passed away earlier this week. Barbara joined PILI's Board of Directors in 1994, later being named as a Life Director in 2017.
Barbara dedicated her legal career to educating young lawyers at DePaul University College of Law and through her involvement in and support of PILI's Law Student Internship and Graduate Fellowship Programs. In 2000, she founded the nation's first technology and intellectual property clinical program at DePaul to provide artists with the legal services to protect their creative work. Having been with DePaul College of Law since 1984, Barbara retired last year as an associate dean of Experiential Education and the director emeritus of the Center for Intellectual Property Law and Information Technology.
"The PILI Board of Directors and staff are saddened by the loss of Barbara and are thankful for her 24 years of involvement with and support of PILI," said PILI Executive Director Michael Bergmann. "I've known Barbara as a law school professor, as a board member at both PILI and at CVLS where I worked previously, and as a friend. Her commitment to ensuring the finest legal education to all those who came through DePaul and PILI and her commitment to helping those in need were truly remarkable. She will be remembered and missed always."
Barbara was survived by her husband Jerry, two brothers, and many nieces, nephews, and friends.  A service will be held this Friday, May 4th at 10:00 a.m. at Chicago Jewish Funerals, located at 8851 Skokie Boulevard in Skokie. More information can be found here.