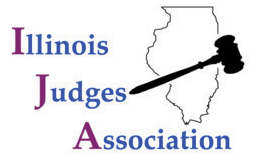 PILI and the Illinois Judges Association are collaborating over the course of the next year on a Pro Bono Committee under the leadership Justice Thomas Kilbride (Ret.) and Judge Julie Katz. As part of this collaboration, PILI and the IJA are offering a free educational program for sitting and retired judges. The Supreme Court of Illinois Judicial College has approved this course for 1.0 hour of Professional Responsibility continuing education credit for participating Illinois judges. This program has also been approved for 1.0 hour of MCLE Professional Responsibility credit.
The live program was presented on June 22, 2021 and was recorded. If you wish to watch the recorded version, you can register to do so from this page. In order to receive credit for viewing the recorded version, you must both register for it and complete and submit a program evaluation form after watching the program in its entirety. PILI will send you a certificate only after receiving your completed program evaluation form.
Program Title: Ethics & Pro Bono: How Judges and Retired Judges Can Help
Program Description: While there are many wonderful legal aid organizations across the state, there are no where near enough legal aid attorneys to meet the demand for civil legal services from low-income Illinoisans. Pro bono is a critical component to the delivery of legal services. While sitting judges cannot provide legal assistance, there are ways in which they can encourage and support pro bono. Retired judges can do pro bono work and there are a variety of ways to help. Participants will learn more about the ways in which they can help and various ethical rules that apply to judges and retired judges.
Learning Objectives:
1. Participants will learn about the need for pro bono civil legal services across the state.
2. Participants will learn about relevant ethical rules within the Code of Judicial Conduct and the Illinois Rules of Professional Conduct that apply to encouraging, supporting and performing pro bono work.
3. Participants will learn about various opportunities to support and perform pro bono.
Program Agenda:

Welcome: Justice Thomas Kilbride (Ret.) & Judge Julie Katz
Overview of IJA Pro Bono Efforts: Judge Barbara Crowder (Ret.)
Examples of Judges Supporting Pro Bono & Ethical Considerations: Judge Alison Conlon, Circuit Court of Cook County & Judge Amanda Gott, First Judicial Circuit
Examples of Retired Judges Doing Pro Bono & Ethical Considerations: Judge Michael Brandt (Ret.) & Judge Ellar Duff (Ret.)
Overview of Pro Bono Opportunities & Introduction to Illinois Free Legal Answers: Michael Bergmann
Question & Answer
Conclusion: Justice Thomas Kilbride (Ret.) & Judge Julie Katz